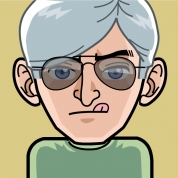 Hi I'm John and as the editor it's my job to make everyone sound great. I'm originally from Arkansas but now reside in Maryland. My job involves studying how sound travels in the atmosphere, yea one of those scientist guys. For relaxation I work in the yard (when it is not cold outside), edit podcasts, play video games, watch DVDs, and try not to drive my wife insane.
I also work on Upside Down and Halfway to Happyland, Buffy and Angel Between the Lines, Joss'd, Tales from the Verse, Strangely Literal, fanTABZulous etc.
I listen to Anime Podcast-theOtaku.com, Anime World Order, Anything Ghost, The Babylon Podcast, Buffy Between the Lines, Charlie Jade Verse, Cook's Illustrated Video Podcast, Doctor Who: Tin Dog Podcast, The Dragon Page – Cover to Cover, Evo @ 11, ExtraLife Radio, fanTABZulous, GeekNights, Geek By Night, Hometown Tales, I Should Be Writing, Joss'd, The Kick-Ass Mystic Ninjas, LOST Podcast: The Transmission, miketechshow, The Money Pit Home Improvement, The Takeover, NPR: Car Talk, The Official LOST Podcast, Podnutz, SciFi Surplus, SkyNext Terminator, Slice of SciFi, Strangely Literal, Stranger Things TV, Tales from the Verse, Technorama, Voices of Babylon, WhatTheCast?, Escape Pod, Pseudopod (yes I spend 2-3 hrs in the car a day commuting).