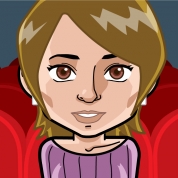 Hi, I'm Lisa!  I first discovered podcasting in late 2007 and immediately realized I wasn't content merely listening to podcasts – I wanted to participate in creating them!  So, I taught myself how to record & edit audio, and started my own general pop culture podcast, Hypersensitive.  Shortly thereafter, I discovered the awesomeness that is Buffy Between The Lines Season 1 just in time to catch their auditions for Season 2, and ended up landing the role of canon character Cordelia Chase as well as working behind the scenes as an editor and special effects-finder.  During that time, I also co-hosted several episodes of another pop culture podcast, Couch Surfing, and ended up putting Hypersensitive on the back burner to concentrate on on more group projects.  My role as Cordelia carried over into Season 1 of Angel Between The Lines, which is currently in production, and I continue to work as an editor and quality controller for Between the Lines Studios.
I live in the U.S. and have been bouncing around between New Orleans, Los Angeles, and Dallas/Fort Worth, TX since about 2004.  At the moment, I am currently back in Los Angeles and work in the Legal Services industry.
Suzi introduced me to Being Human while the 2nd Series was airing on BBC America and, even though I started watching it out of order, I was completely captivated by the characters and the writing and the wealth of pop culture references.  When Andy & Suzi invited me to join the podcast, I was thrilled to have the opportunity to share my love of this amazingly awesome & unique show!