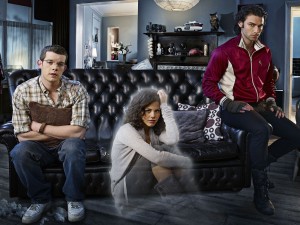 Okay at last we are back… Firstly sorry that we were gone so long, real world been keeping us all busy.
So to kick things off this is an episode all about you folks our listeners. In Episode 19 you first get to hear from Valerie at DragonCon, (where I didn't recognise her at first in her Daisy outfit!). This is then followed by Lisa, Kinkyclawz and more from Valerie on why they love Being Human.
We've changed a few things around on the podcast so from now on we'll be including WILBH's in main episodes and use the mini episodes to focus on fanfic… Plus next main episode Suzi and I will be joined by our new crew member…
Note there are some references to the whole of S2 within this episode.
Additional:
It's been announced that Rob Kazinsky will join Aiden Turner in Peter Jackson's new film 'The Hobbit'. What's interesting about this is that Rob used to have a role in Eastenders where he played Stacey Slater's brother, Stacey being played by Lacey Turner, who will be appearing with Aiden in Season 3 of Being Human; small world huh!
Podcast: Play in new window | Download (Duration: 38:37 — 35.4MB) | Embed
Subscribe: Apple Podcasts | RSS