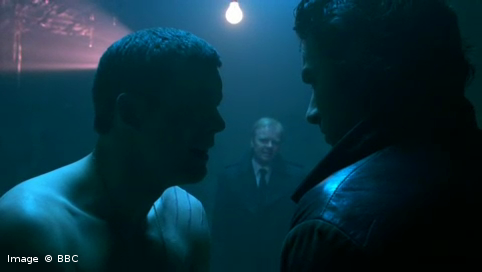 So here we are with the final episode of the first series of Being Human, three lots of apologies to begin with. Firstly sorry that we are late posting this… Secondly apologies for the poor audio quality in parts, we'll hopefully have this fixed by next time, and thirdly most importantly; apologies to Carol. In BHC009 Carol commented on our question about what does Annie say to Owen. In the comment she reminded us that Annie refers to this in S1E6, I promised to look out for this, then completely forgot to mention it at all; woops! We'll try harder next time…
Discussion: Season 1 Episode 6
Promo 1: The Weird Show
Promo 2: Technorama
Additional:
Unfortunately Richard Wells didn't win the Original Television Music award in the 2010 Television Craft Awards, however Being Human is still in the running for a BAFTA for Best Drama series.
In addition don't forget to vote for Being Human show and cast at the TV Choice Awards – voting closes June 11th 2010.
Also if you missed it, the BBC have announced filming dates for the third series.
Finally we really need more Why I Love Being Human stories…
Podcast: Play in new window | Download (Duration: 44:24 — 40.7MB) | Embed
Subscribe: Apple Podcasts | RSS